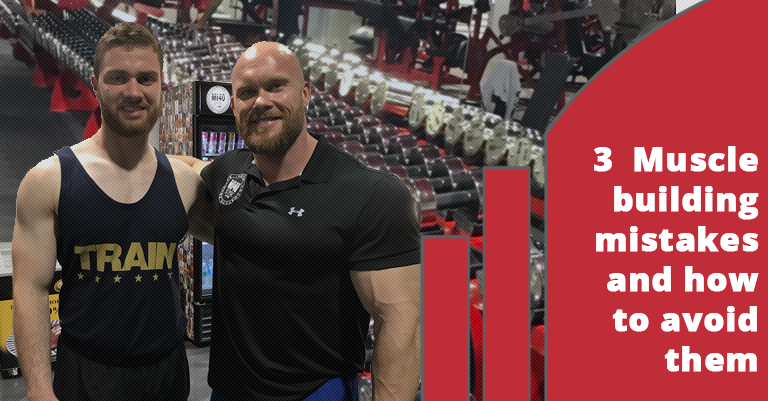 In April, I took another trip to Ben Pakulski's Mi40 Gym in Florida. Mi40 is a world-famous facility specialising in hypertrophy, and I went specifically to increase my knowledge of exercise execution, selection and unsurprisingly push some mental boundaries when it comes to effort in the process.
I want to share a few thoughts about maximising hypertrophy gains that rubbed off on me during my trip, and the top three mistakes people make when it comes to hypertrophy training. Although there are loads of studies and theories about the best way to do this, it's pretty hard to argue with some of the most mammoth human beings I've ever had the pleasure of meeting. Their theories must work, right? There's always a perfect blend of science and application, and these guys have nailed it.
There are a few main points I want to cover in this blog post. Firstly, all the personal trainers at Mi40 are sticklers for technique. Now, I'm not talking about your typical "bar must touch the chest on bench press" kind of form; it's a totally different level of technique critique!
Secondly, none of the exercises they use are special in any way; they are simply variations of basic exercises most gym-goers will have in their exercise library. All variation is done intelligently, with a proper thought process, as opposed to variation for variation's sake, which is something we see far too often from some personal trainers!
Lastly, knowing how to apply focused effort is key to maximising your hypertrophy gains. I say 'how' because it seems there isn't an inherent lack of work being done by most gym-goers, but the focus is often misdirected.
Mistake 1: Putting Periodisation Before Exercise Execution
The importance of exercise execution in training for hypertrophy that has been somewhat neglected by many in the fitness industry lately due to the arrival of the new kid on the block – periodisation.
Bold statement alert. There's been a lot of discussion in the personal training industry recently about periodisation, and why it is the most important element of hypertrophy training. While there is definitely serious merit to a phased approach to training in everyone's programme, it shouldn't be made the determining factor of whether a programme is great or not. Linear, wave or pyramid - I don't care! Put simply, each and every one of these are methods of altering total workload (volume) across a period of time.
If you ever hear claims of the perfect programme, please turn away from the personal trainer in question, and re-read this blog post. Essentially, you could have the most perfectly periodised training programme known to man, but I can guarantee that if your execution is off, you just might as well throw that plan in the bin!
Before you address periodisation; focusing on executing exercises correctly, and maintaining that perfect execution throughout your entire workout is unbelievably important. If you aim for perfection with each rep, you'll be open to a greater margin for error within your training, allowing for greater hypertrophy gains.
Mistake 2: Random Exercise Selection
The second element is exercise selection. This is where things get interesting and seemingly unconventional. When it comes to hypertrophy:
Yes – Free-weight exercises can be great exercises
Yes – You'll likely get bigger arms doing barbell skull crushers
Yes – Chin-ups can build you a bigger back
However, the above exercises may not be your best options for maximum hypertrophy. Stick with me here. By being clever with our exercise selection, we can design more efficient and far superior workouts. Please put aside all prejudices about your favourite exercises and read the following statement carefully.
Essentially, the most effective exercise for a given muscle is one that has the ability to perfectly match the output capability of that muscle throughout its entire range of motion.
And to those who think we're overcomplicating things here and reply – "But people have been getting big and strong by doing compound basics for years!" - Correct, they have. But, what if we never progressed our thinking? What if we still assumed that pigeon post was the most effective way of getting a message out? I have no idea how many pigeons I'd have to send in order for you all to read this…
There's an entire plethora of fancy adaptations you can make to achieve a more optimal exercise resistance profile such as employing resistance bands, heavy chains & varying cable angles. Although throwing a resistance band on something may get you more looks in the gym it doesn't always make the exercise more beneficial, in fact it could be making it worse! They must be used in the right way when it comes to hypertrophy, taking a lottery approach to your exercise selection isn't likely to get you far. I'll be doing another blog post on selecting optimal exercises shortly – keep your eyes peeled!
Mistake 3: Misplacing Your Efforts
So, effective execution and the correct exercise selection are crucial to a good hypertrophy programme, or workout. But we're missing the third key ingredient – good old fashioned hard work.
We need all three elements – execution, selection and effort – present in order to elicit a maximal training response. In fact, we need execution and selection in place first to even qualify to use effort!
You see, most people complete 200% workouts using 50% reps, meaning they go mad for an hour with a tonne of unnecessary sets and flamboyant zero-resistance exercises. I'll go all in and say that if we focused a little more on selecting more efficient exercises and squeezing the last drop out of every inch of each rep, you could easily cut your training volume and gym time in half. You'd even have more time for changing room selfies!
Look around, judging by the screwed-up faces and endless grunting, it's not a lack of intensity that's holding you back. I see 10/10 for effort but a modest 2 for concentrated focus and effort. Actual effort is what counts, it doesn't matter how much effort it looks like you're putting in.
The goal isn't to "win" the workout. The goal is to progress, and enjoy yourself along the way. If you can get that done more effectively & in less time, then it would be foolish not to. Let's be honest, nobody relishes in the thought of ten sets of Back Squats!
Please come back and tune in soon, when I'm going to lift the veil on 'the 5 Factors of Optimal Exercise Selection.'