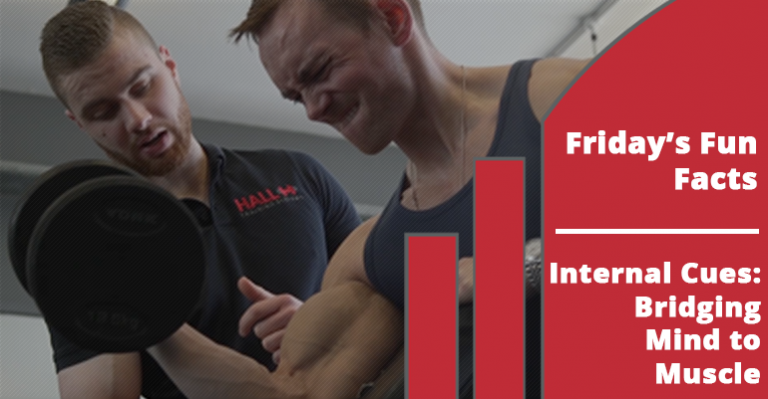 Last Friday I talked about the mind-muscle connection, and how if we think about a specific muscle working, we can in fact increase its activation and the amount of force or effort it's exerting on a load.
Today, I want to talk about how we can spark this link from mind to muscle and establish this all important connection.
It's no secret; people who are new to training tend to have a poor biomechanical feedback mechanism, meaning they find it difficult to feel a muscle when exercising it. As their training age progresses, so too does their ability to engage the right muscle for the exercise.
In all the years I've been a personal trainer I've (typically) found the muscles we're unable to see i.e. our glutes, lats, upper back and hamstrings, tend to be harder to feel and engage compared to those that we can see, such as the biceps, quads, abs and shoulders.
So, how can we teach people to start engaging their muscles and to improve their mind-muscle connection?
Well there are two tricks we can use,
1.Internal and External Cues
2.Touch
all of which have proved to be very beneficial. But today I want to talk about internal and external cues.
Cues can typically be categorised into those that have an internal or an external focus. Internal cues are instructions that direct a person's attention towards a part of their body, such as muscles and joints. External cues have a more external focus, instructing a person to focus their attention on their surroundings, outside of the body. These are generally used when the goal is to produce power or increase performance.
Generally speaking internal cues help to:
• maximise muscle contraction
• maximise muscle activation
• improve technical form
whereas external cues help to:

• maximise strength
• maximise power, speed, velocity and acceleration
• maximise precision and coordination

External cues have been shown to be far superior to internal cues for maximising performance (Bredin, Dickson & Warburton 2013). If you're an athlete or competitive sportsman/woman then focusing mainly on external cuing would certainly be the way to go however, we're not athletes (well, I'm certainly not).
Most of us are simply looking to be able to effectively activate certain muscles in the right order, at the right time - cue internal cueing.
For years, bodybuilders have been implementing the use of internal cues to help improve the mind-muscle connection. Research has shown by directing your attention and focus internally to a muscle or joint you can increase a muscle's engagement and the level of contraction (Snyder & Fry. 2001).
Here at Hall Training, we often provide internal cues to our clients to help them to feel and engage certain muscles.
Here are just a few we like to use:

The Lats:
When performing a lat pulldown, we encourage the client to keep their chest up and imagine driving their shoulder blades back and down into their hips, leading with the elbows - internal verbal cues help to increase latissimus dorsi activity compared with no cue (Snyder 2009).

The Glutes:
For glute engagement, we encourage the client to imagine they're trying to crack a walnut when coming up into hip extension, or to imagine they have a five pound note between their buttocks which they're trying desperately to keep a hold of – both cues really help to keep the glutes squeezed and muscles contacted. Researchers have reported providing internal cues during a hip extension led to increased muscle contraction (Lewis et al. 2009).

The Pecs:
When performing a bench press, it's common for most people to feel it in their triceps or shoulders rather than the muscle they're trying to work, which would be the chest. By instructing the client to push their hands together against the bar as they push upwards, along with imagining the two elbows coming together in an arch motion, it'll make the exercise more focused on the chest muscles.
Research has also concluded that in response to chest cues, subjects were able to increase the amount of activity (22% increase) placed through the chest muscles during the bench press (Snyder & Fry. 2011).

The Biceps:
For men this is never really an issue, but females tend to have a hard time contracting their biceps. Why? I have no idea, maybe because they're not as vain as us men! Anyway, one trick we use is to imagine the elbow coming up to meet with the shoulder when performing a bicep curl, and then really squeezing it at the top like a balloon, imagining you're trying to pop it – these internal focuses help to increase bicep activation and recruitment.
So, there you have it; a few little tricks to help bridge the connection between mind and muscle. The next time you go to the gym, try directing your attention away from what's around you and start thinking about what's going on inside you… you never know, it may just help you to feel muscles you never knew existed.