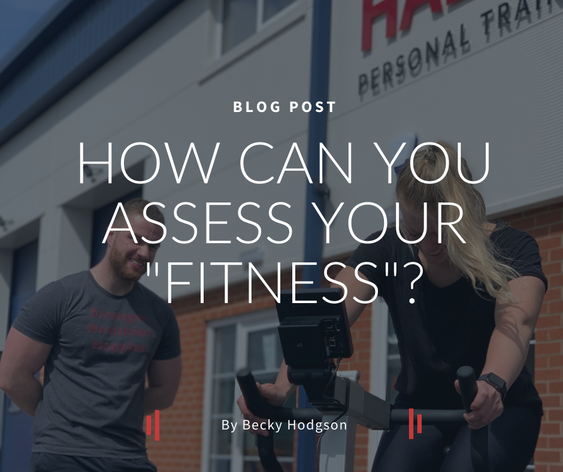 Today is National Fitness Day, and as personal trainers we think that's a pretty good excuse to celebrate, and more importantly, take a while to think about what fitness means to each of us. "Fitness" means different things to different people. For some, it's running a sub 7-minute mile, and for others it's about getting up and down from the floor with ease. It all depends on a person's age and goals. So, what markers of fitness could you use for goal setting? Well, Becky has a few ideas… some more serious than others!
Let's start with mobility and agility, key components of any fitness programme. These terms could refer to how flexible somebody is, but there's more to it than that. Does the body move with ease when changing positions? Can the body sit and stand in a variety of different positions? All the movements we do in our day to day lives, from the day we we're born, will contribute to how mobile we are. Here are a few ways you can assess yourself here:
Can you perform a strict banded overhead squat? This will assess hip, ankle and shoulder mobility.
How close can you get your hands and feet while performing an inchworm? This will assess hamstring and hip mobility.
Can you get up and down from the floor while using just one hand (or no hands) in less than 5 seconds? This will assess how agile your body is, as well as assessing your mobility.
Bonus advanced test: can you perform a pistol squat? Not only will this assess mobility at the knee, hip and ankle joints, but it will also test the strength at these joints.
If you struggle with any of the above, the most effective way to improve your mobility is to strengthen the areas that don't move with ease and spend more time in positions that challenge you.
Next, let's look at strength. This is the area most of our members come to us to work on. When you think of a strong person you may think of Eddie Hall lifting cars or Ronda Rousey pinning down her opponents with ease. But strength can be far more subtle than that, it's simply the capacity to withstand force or pressure. Sadly for us ladies, on average we're just are not as physically strong as men, however there are plenty of ladies stronger than plenty of men out there. Don't forget that! Ways to assess your strength could be:
Can you perform a technically proficient press up from the floor?
Ladies - Most women cannot perform full floor press ups without training. Any woman who can perform just one is classed as having above average strength for a woman. Trained women should aim for between 1 and 10 floor press ups.
Gents - Men should aim for 5-20 floor press ups.
This will test upper body strength in the pectorals (chest) and triceps (back of the arms). Floor press up strength is also largely dependent on bodyweight. If you struggle with floor press ups, try them at a 0.5-1.5-metre incline. This will reduce the load through the upper body.
Can you lift your bodyweight in the form of a barbell deadlift?
Ladies - This is a very tangible target for most women of all ages after 1 to 12 months of training.
Gents - Men should aim for between 1.5 and 2x body weight within 1 to 12 months of training.
These goals will largely depend on your body weight, however, do remember mass moves mass, the heavier you are the more you may be able to lift.
Bonus advanced test - Can you push your car on a flat surface with a driver in the front?
This will largely test lower body strength, particularly in the quadriceps. [Disclaimer – obviously only try this in very quiet streets or car parks…]
Let's move on again to cardiovascular fitness, the most common form of fitness to assess. You remember the bleep test at school, right? When we think of fitness we tend to think of how long or far a person can continue to work. While there are many ways to assess a person's cardiovascular fitness in a science lab, for example we can test lactate threshold or VO2 max, these scientific terms aren't overly helpful for most casual gym-goers who want to assess themselves. Ways to assess cardiovascular fitness could be:
How long can you continue to increase and sustain your speed on a bike?
Find a bike (or assault bike if you're feeling brave) that shows speed in km per hour. Starting at between 18-22 km per hour continue to pedal increasing speed by 1km every minute. Once you can no longer increase your speed and sustain it for one minute its game over. Non-athletes should aim for between 7-12 minutes of work. Bear in mind starting at a lower speed may allow you to work for longer, and readings may be different depending on which bike you choose.
Bonus advanced test - Can you beat the London underground from Marylebone to Paddington station using no other form of transport other than your feet?
It's only 1.3 miles….
No running tests we hear you cry. We find it best to leave running out of the equation when it comes to testing cardiovascular fitness, so there will be no mention of that dreaded bleep test.
Whether you're a regular gym-goer or not, why not use National Fitness Day to think about what fitness really means for you, and set yourself some goals for the rest of the year? That's exactly what we'll be doing. If you need any help setting yours, drop us an email and we'd be happy to help.