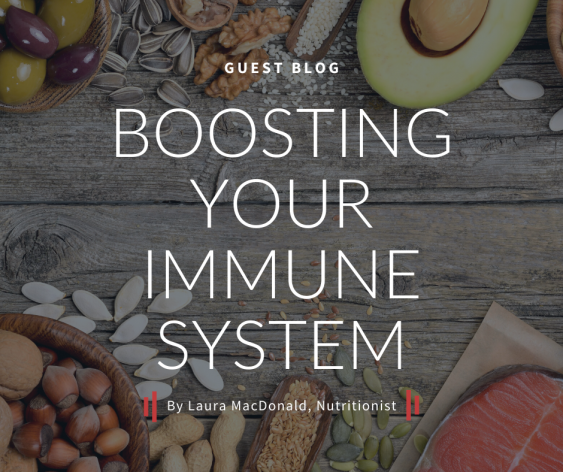 It's the time of year when everyone seems to have a cough or a cold, and with more that 200 different common cold viruses you'd be forgiven for thinking that catching one is inevitable. Luckily, there are a lot of different ways to boost your immune system so that you can stay fit and healthy throughout the winter months. We caught up with Nutritional Therapist Laura MacDonald to find out her top tips.
Keep your digestive system happy
My number one tip for a healthy immune system is to focus on your gut, which is home to more than 70% of your immune cells. Keeping your gut bacteria happy is key – they thrive on fibre so increasing your fruit and vegetable intake is a great way to support them (and has the added bonus of increasing your overall nutrient intake too).1 Aim for plenty of variety and colour because just as we have different food preferences, so do different strains of bacteria. Another way to increase fibre is by swapping refined carbohydrates for complex carbohydrates – choose brown pasta and grains over the white varieties which are much lower in fibre and nutrients.
Fermented foods also promote growth of beneficial bacteria in the gut, which then support the immune system. These are foods that contain 'probiotics' – live bacteria. Unsweetened, natural live yoghurt, milk or water kefir, kombucha, sauerkraut, kimchi and miso are all examples of fermented foods and most can be found in large supermarkets or your local health food store.2
Check your Vitamin D
No blog post about the immune system would be complete without mentioning vitamin D. Deficiency is strongly linked to increased susceptibility to infection.3 Though you can get some vitamin D through diet (oily fish, red meat, liver, egg yolks and fortified products), between September and March it is recommended that we take vitamin D supplements in the UK because we don't get enough from sunlight. The NHS recommends 10 micrograms daily, but it is impossible to guess each individual's levels, and since this is such an important vitamin it can be useful to test your levels and supplement more, or less, as required.4
Protein
Make sure you're getting sufficient protein from whole, unprocessed sources. Amino acids (the molecules that make up protein) are integral to producing immune cells such as antibodies, cytokines and macrophages and research has shown a link between insufficient protein intake and reduced immune function.5 Meat and shellfish are also a good source of zinc, another essential nutrient for the immune system, while plant-based sources are a source of antioxidants which can help protect against inflammation. In contrast, processed protein sources often contain additives and sweeteners which irritate the gut and are detrimental to the health of gut bacteria – remember, a healthy gut supports a healthy immune system.6
Limit alcohol
Alcohol disrupts gut bacteria, allowing opportunistic and pathogenic bacteria to grow and inhibiting the communication between beneficial bacteria and immune cells. It can also cause inflammation and even has a negativity on the integrity of the gut wall. All of this effects the immune system – remember, the majority of the immune system lives in the gut.7 It's not all doom and gloom though – whilst excessive drinking can have this effect, there is a small amount of evidence to suggest that a small amount of high quality, red wine might actually benefit the gut bacteria due to the polyphenol content. 8
It's very easy to only focus on the health of your immune system when you start to feel it struggling, but by putting these tips into practice on a daily basis you can set yourself up for a much healthier winter.
By Laura MacDonald, Nutritionist
References
Holscher, H. (2017). Dietary fibre and prebiotics and the gastrointestinal microbiota. Gut Microbes, 8(2), pp.172-184.
Rezac, S., Kok, C., Heermann, M. and Hutkins, R. (2018). Fermented Foods as a Dietary Source of Live Organisms. Frontiers in Microbiology, 9.
Aranow, C. (2011). Vitamin D and the Immune System. Journal of Investigative Medicine, 59(6), pp.881-886.
NHS. (2020). Vitamins and minerals - Vitamin D. [online] Available at: https://www.nhs.uk/conditions/vitamins-and-minerals/vitamin-d/ [Accessed 3 Jan. 2020].
Li, P., Yin, Y., Li, D., Woo Kim, S. and Wu, G. (2007). Amino acids and immune function. British Journal of Nutrition, 98(2), pp.237-252.
Moreno-Pérez, D., Bressa, C., Bailén, M., Hamed-Bousdar, S., Naclerio, F., Carmona, M., Pérez, M., González-Soltero, R., Montalvo-Lominchar, M., Carabaña, C. and Larrosa, M. (2018). Effect of a Protein Supplement on the Gut Microbiota of Endurance Athletes: A Randomized, Controlled, Double-Blind Pilot Study. Nutrients, 10(3), p.337.
Sarkar, D., Jung, M. K., & Wang, H. J. (2015). Alcohol and the Immune System. Alcohol Research : Current Reviews, 37(2), 153–155.
Nash, V., Ranadheera, C., Georgousopoulou, E., Mellor, D., Panagiotakos, D., McKune, A., Kellett, J. and Naumovski, N. (2018). The effects of grape and red wine polyphenols on gut microbiota – A systematic review. Food Research International, 113, pp.277-287.