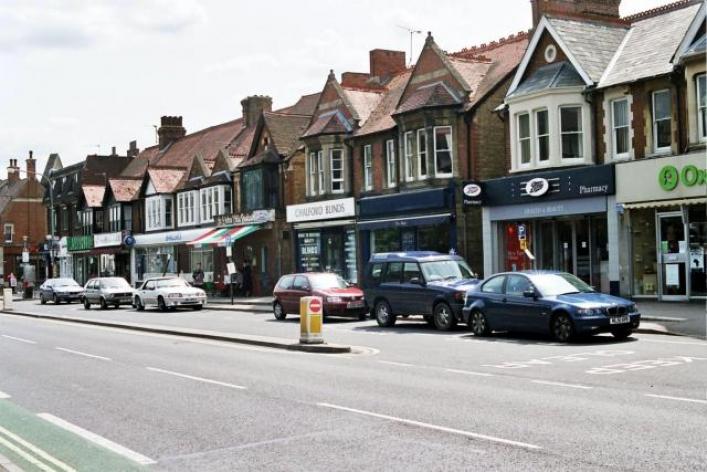 As personal trainers in North Oxford, we often pop to Summertown to grab a healthy lunch. Our running coach Becky has done a roundup of the best five places to grab a healthy lunch in Summertown, based on whatever your dietary requirements are!
1.
M&S Salad and Deli Bar
I started with a firm favourite of mine, the M&S salad bar – a Summertown staple. I am told that this is the only M&S outside of London with a fresh salad bar, and it really is amazing. The particular lunch deal I chose caters more for meat eaters and pescatarians, but wow what a choice us meat eaters have!
For just five pounds you can get ¼ of a chicken and 200g of any salad to go, or you can go large for an extra £2 and get ½ a chicken. This is perfect for anyone on a high protein and low carbohydrate diet. It'd also be a great lunch for any vegetarians out there – just skip the chicken and make sure your salad contains lots of beans and other sources of protein.
There are about ten salad options, all hugely varied and including a wide range of different fruit and vegetables. After much deliberation I opted for the roasted mushroom salad to go alongside my ¼ peri peri chicken.
I was pleasantly satisfied with my choice. The chicken was cooked perfectly and pulled off the bone easily while not being too greasy. I also found the salad tasted fresh and full of flavour so didn't leave me with that post lunch drowsiness.
I would like to point out that as nutritious as these salads are, they are also quite calorie dense with additional calories coming from full fat dressings such as sour cream and buttermilk. If you're looking to slim down, I would suggest opting for the chicken breast rather than the leg and removing the skin to save unnecessary calories. You can also choose a salad with fewer dairy and oil-based dressings such as the kale and cranberry salad with orange and ginger dressing.
Gail's needs no introduction in Summertown. Being a London based brand, it isn't cheap, but you get what you pay for!
Along with the irresistible cakes and bakes, Gail's also do a rather varied selection of salads such as Quinoa, chopped vegetables and fresh herbs (vegan) and beetroot, lentil and goats' cheese. They also have a falafel, couscous and ratatouille salad which can be warmed. They're all packaged and ready to go which is great if you're in a rush.
I decided to sit in and have a breakfast item off the menu: sautéed mushrooms, goats' curd, baby spinach and a fried egg on sourdough toast. Despite the cafe being busy it came within 10 minutes and only set me back £7.
If you're looking for a larger portion or extra protein you can add either smashed avocado (£3), scrambled eggs (£3), streaky bacon (£3.50) or smoked salmon (£4)
This is a great option for vegetarians and vegans, but probably not the best for those sticking to a low carbohydrate diet.
While this may not be the quaintest of cafes, it definitely has the widest range of foods you'll see in Summertown. The counter is filled with Lebanese delights such as Hummus, Moutabal (grilled aubergine in sesame oil), Moussaka, Falafel and many more meze options. They do a vegetarian lunch pack: a selection of six deli favourites served with Lebanese bread for.
I chose the Friday board special, Lamb and tomato inside a baked aubergine with rice and Lebanese bread, for only £5. Before they warm it through, they cover the dish in more juices form the lamb. This was the biggest portion of all the lunch options I'd seen in Summertown and definitely the tastiest. The lamb was so soft and meaty oozing juices into the beautiful soft rice.
Like Gail's, this is a vegetarian's paradise with a huge array of meze and salad options, but it's also a winner if you're looking for a meatier lunch. This was quite a carb overload so beware of that mid-afternoon drowsiness!
Lebanese food is full of fibre, but it can also be a higher fat and carbohydrate option, so those looking to slim down might like to ask for half the rice before they serve it and skip the bread, making this a meal more energy dense through fats rather than carbohydrates and fats combined. However, if you are looking to build muscle and gain weight this could be the perfect meal for you.
With all the hype in the media regarding gut health, pro-biotics and pre-biotics I was very excited to try Modern Baker. Here the focus is on reduced refined sugar, gluten free and vegetarian/vegan products. These are also probably the most instagrammable of lunches.
There are a variety of gluten and refined sugar free cakes on the counter along with a toast bar for lunch. It doesn't sound like much, but I found this the most exciting of lunches due to the topping options such as sauerkraut and kimchi; a very different selection in comparison to other places in Summertown! These fermented foods are strong choices for anyone wanting to improve their gut health, as they feed the healthy microbiome (bacteria) in our guts.
I chose the modern baker 'seedy seedy' bread topped with hummus, cucumber and kimchi. This also came with a seedy side salad. Now if that is not posh toast, I don't know what is! It really did hit the spot and I was happy to see the bowl of kimchi was overflowing, definitely a fan. I really do think this is such a simple yet fun idea that North Oxford residents should be taking advantage of!
Found inside the co-op this is a less swanky option, however just as comforting in the winter. They have a selection of hot curries, rice dishes and noodles as well as sushi and udon bowls. Prices for sushi range from £4.95 for a regular size katsu box, to £10.25 for a large variety sushi box including Nigiris and Maki rolls. These are perfect, quick and macro-friendly lunch options.
I chose the large chicken udon noodle bowl, costing £5.95, which I had heated up. This really was full of flavour and super filling probably due to a large amount of liquid along with a decent ratio of chicken to vegetables. They definitely don't skip on the protein! At only 347 calories per bowl this is the perfect lunch for anyone looking to slim down. They also offer seaweed salad and edamame bean sides. Great low-calorie filler options for anyone trying to tackle the afternoon boredom eating.
However, I would add that as warming as the udon bowl is, the cafe is rather chilly as it is in a supermarket, so maybe one to take to a park bench or back to the office.