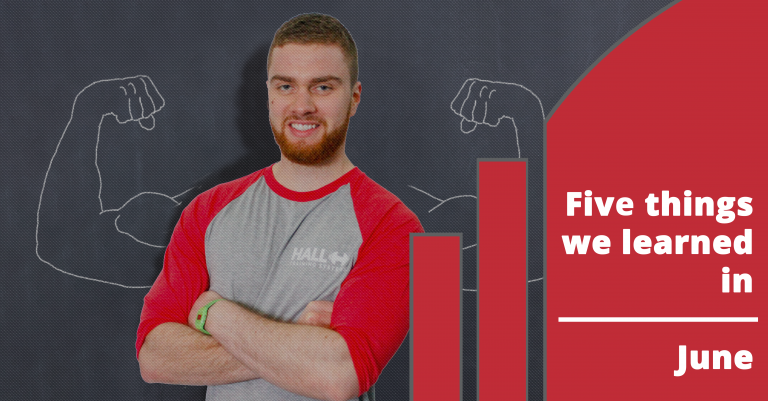 From eccentric and concentric training, to blood flow restriction and hamstring training, June's fitness research has covered it all. Our level 4 trainer George has sifted through it all to bring you some gems you can apply to your own training straight away – enjoy!
1. Eccentric training beats concentric training – over a long time period
A recent meta-analysis study - which is the epitome of all studies and one we should definitely listen to - showed that with equal volume, eccentric-only training produced marginally greater increases than concentric-only training. Now, although the increase was relatively small, it would make sense that over time (I'm talking years) we'd likely see an exponential gap form between the two different methods.
As muscles are able to contract against more load during the eccentric, with less energy expenditure for an equal amount of mechanical tension (volume load), the eccentric proves to be of definite importance to any workout – especially hypertrophy and strength programs.
So what should you do with this information? Well, I'm certainly not advising removing concentric contractions. Both eccentric and concentric are essential elements in your training routine. They're not even different methods, they're just the two different phases of a rep, so make sure your training covers both. After all, it's not likely that you'd ever perform just eccentric reps without the concentric - deadlifts would be off the cards!
2. The jury's out on making bloodflow restriction comfortable
If you've ever done blood-flow-restriction (BFR) you'll be able to recall how uncomfortable it can get! Can we get around this by applying the wraps post exercise, instead of during the set? Typically, wraps would be applied throughout the set to prevent the build-up of metabolites within the muscle from clearing, and then be kept on for an additional 60 seconds post-set.
A recent study tested out completing normal sets, then applying wraps for 5 minutes after the set (instead of while the contractions were taking place), against the same protocol but without post-set wrapping. Results showed that very similar outcomes were found across both groups.
From this study, it was concluded that the accumulation of metabolites isn't the cause of an increase in muscle cross-sectional area (CSA), but that the BFR causes an increase in motor unit recruitment and that's why an increased muscle CSA would occur. Taking this, and my previous point into account, seems that an increase in metabolites hasn't been considered as a potential cause of increased CSA. As the wraps weren't applied throughout the sets, I'd say that only applying the wrap at the end of the set would likely have allowed much of the metabolic waste to clear. After all, muscles don't want to be full of metabolic waste, they want to get rid of it as fast as possible and are constantly flushing out that contractile by-product. They won't be waiting until the last rep has been completed to begin this process.
There we are; as it stands the jury is still out on the exact BFR method to use.
3. Drop sets are best for size, multiple sets are best for strength
I have no idea who came up with the drop set phenomenon but it sure was a great idea, especially as it was likely done out of pure intuition and not backed by science! Numerous studies have shown the benefits of drop sets on muscle size, and here's the freshest member to the club.
With total load lifted being evenly matched across two different groups, the drop set group increased overall muscle cross-sectional area (CSA) by 10%, beating the 5% in the normal, multiple set group. Although the difference seems minimal, again, added up overtime this could lead to the difference between 15" & 20" pythons!
But what about rep strength instead of size? Even though in this study, drop sets proved to increase muscle CSA by an extra 5% and indicators of fatigue were higher, rep strength didn't increase. However, in the multiple set group it did. It's likely that a huge component of this increase would be via metabolic stress (one of the primary mechanisms of hypertrophy) due to increased metabolite build-up within the muscle during the exercise. This decrease causes lower threshold fibres to work and at a higher number of reps, resulting in greater metabolic stress.
Mechanical tension still plays a huge role as another mechanism of hypertrophy and should be varied within your training programme using a phased approach – cycling between mechanical tension, muscle damage and metabolic stress.
Because the multiple set group completed the same total load using higher threshold fibres, greater mechanical tension would have been created therefore a greater increase in strength was observed.
4. The Nail in The Coffin for No Knee Over Toes? Finally!
I'd like to think that this old cliché is dying out and hope that June's latest study will put it to bed for good. This study pitted 'knees over the toes' against its rival 'knees not-over the toes' - I guess you'd call it?
I'm not sure whether this study was designed to describe the sheer force created by a knee over the toe approach, but please bear in mind that 'joint stress' isn't a bad thing at all. I'm sure if we exchanged it for 'joint torque', some heads would sure turn as it sounds much more conducive to strength and hypertrophy results. Torque is all we're ever creating around joints when we lift something – from cup of tea to max effort squat – even though the torque values do vary greatly!
All in all, less knee flexion was shown to produce less joint torque (shocker). However, taking the squat for example, you might be able to squat 100kg by flexing to 100o of knee flexion, and 120kg by flexing to only 80o but you added load to the 'shallower' squat and would have most definitely still increased joint stress.
Throughout a training program less knee flexion would likely show decreased gains in the quadriceps' strength and size due to reduced torque, and subsequent muscle stress throughout its entire contractile range.
Anyway, knees over toes is about as arbitrary a measurement I think you could find.
Assuming that the elbow is effectively the knee of the upper body – why haven't we created an "elbow must not flex further than the hand" movement? Not so crazy, right? I'd like to add that nowhere in this study were exploding patella's noted during any of the lifts.
5. Curl away for solid hamstrings!
No, unfortunately not bicep curls but Nordic Curls, an old-school hamstring exercise. Along the lines of our founder – Chris's post in our Facebook Community page - one recent piece of research investigated the effect of eccentric hamstring training on total hamstring strength using two primary exercises, Nordic Curls and the Russian Belt.
Hamstring strain is common in many sports – especially football – and something we want to prevent, hence the need for building rock-solid hamstrings!
Eccentric loading alone of the hamstrings using Nordic Curls and Russian Belt exercises was shown to increase hamstring strength but interestingly, only the Nordic Curl seemed to improve asymmetrical imbalance between legs.
Most Personal Trainers will focus on the hamstrings' function during hip extension and knee flexion, thinking only about the concentric phase. It's important to remember their role in the opposite direction, when the hip is flexing and knee extending – acting as stabilizers of those joints. The hamstrings and calves work synergistically to provide stability across the knee, and therefore act like a force decelerator as the foot strikes the floor. Without this you'd have to kiss goodbye to your poor knees!
The biggest takeaway is that both exercises are eccentric loading exercises, therefore a protocol of eccentrically overloaded prone lying leg curls should display the same result. Muscles only response to muscle tension, they're unaware of the actual exercise performed.
There we have it – curl away for immense hamstrings!
References:
1. Schoenfeld, B. J., Ogborn, D., Vigotsky, A. D., Franchi, M. & Krieger, J. W. (2017). Hypertrophic effects of concentric versus eccentric muscle actions: A systematic review and meta-analysis. The Journal of Strength & Conditioning Research
2. Madarame, H., Nakada, S., Ohta, T., & Ishii, N. (2017). Postexercise blood flow restriction does not enhance muscle hypertrophy induced by multiple‐set high‐load resistance exercise. Clinical Physiology and Functional Imaging.
3. Fink, J., Schoenfeld, B. J., Kikuchi, N., & Nakazato, K. (2017). Effects of drop set resistance training on acute stress indicators and long-term muscle hypertrophy and strength. The Journal of Sports Medicine and Physical Fitness.
4. Kernozek, T. W., Gheidi, N., Zellmer, M., Hove, J., Heinert, B. L., & Torry, M. R. (2017). Effects of Anterior Knee Displacement during Squatting on Patellofemoral Joint Stress. Journal of Sport Rehabilitation.
5.

Rey, E., Paz-domínguez, Á., Porcel-almendral, D., Paredes- hernández, V., Barcala-furelos, R., & Abelairas-gómez, C. Effects of a 10-week Nordic Hamstring Exercise and Russian Belt Training on Posterior Lower Limb Muscle Strength in Elite Junior Soccer Players. Journal of Strength and Conditioning Research

.