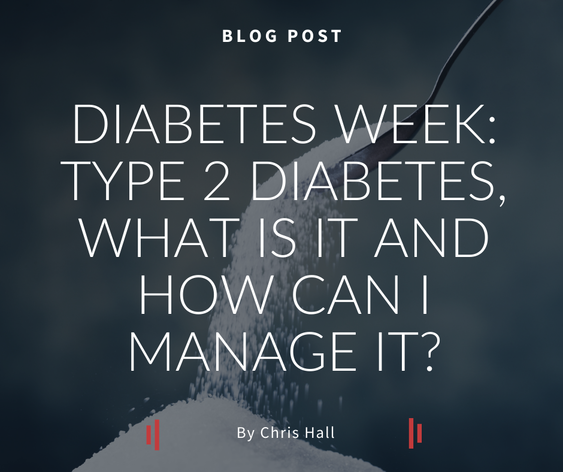 Unfortunately, (you know it's never good news when a blog post opens with 'unfortunately') Diabetes is more prevalent now than ever. A quick survey among our contacts showed that most of us know somebody suffering with the illness. When I talk about diabetes today, I'm really referring to Type 2 Diabetes, which is the lifestyle-related type, and makes up 90% of diabetic cases*. Working in the health and fitness industry, we're always overjoyed when somebody with Type 2 Diabetes comes to us wanting to make a change. It's an instance when we know we can use our skills and knowledge to make an overwhelming impact on somebody's life and health. Going on that journey with them is a privilege, but it'd be better if fewer people were having to take those steps in the first place.
If we look at some stats from a paper published in 2019 looking at Diabetes in the UK, it's estimated that 7% of the UK population is now living with Diabetes and approximately one million more people are walking around with undiagnosed Type 2 Diabetes. To give some context, in May 2020 the ONS reported 7% of the UK population had been infected with Coronavirus so far. Worryingly, there's no indication of its incidence slowing down. In fact, DiabetesUK predicts the number of people living with diabetes to rise to 5.5 million by 2030. This is shocking, as people living with Type 2 Diabetes are 50% more likely to die prematurely; Diabetes is the biggest contributor to heart disease and limb amputations, causing 530 heart attacks and 175 amputations per week in the UK alone. In 2019, 13,951 people lost their lives to diabetes in the UK and one in six hospital inpatients are diabetic, costing the health service £10 billion per year (10% of its total budget).
These statistics are saddening and maddening. Medical and scientific research shows that Type 2 Diabetes can be prevented, controlled and even reversed. Many of the deaths reported across 2019 as a result of diabetes could have been avoided simply by providing people with the right knowledge and tools to take charge of their health. So, what does sugar to do our weight, and what can we do about Type 2 Diabetes?
Let's start by looking at what Type 2 Diabetes actually is.
Healthy individuals have around one teaspoon of glucose (blood sugar) circulating their bodies. The hormone insulin keeps our glucose levels in check, and makes sure that the sugar we consume is stored safely in our cells, rather than circulating around in our blood. Type 2 Diabetics can't metabolise blood glucose properly, so more and more glucose builds up in their bodies. In an effort to safely store it, increasing amounts of insulin are produced, but the cells no longer recognise insulin's signal. We call this insulin resistance, and it causes Type 2 Diabetes.
Let's move on to what causes this to occur.
In most cases, the answer is simple: excessive food intake, weight gain and lack of movement/exercise are the main contributors. So it should be simple to reverse, right? Well, no, this isn't the case. Once insulin resistance has occurred, it has knock-on effects on other hormones, including Leptin. Leptin is secreted by our fat cells, and helps to regulate our appetite and weight.
The more fat cells we carry, the more leptin we have telling our body to eat less and move move, helping us to burn off excess energy. As we lose body fat we reduce the amount of leptin, and in doing so signal our body to eat more and move less. If you've even been on a successful diet, you'll have likely witnessed leptin at work and found your appetite increasing over subsequent weeks.
Logically, Leptin should be helping us out if we're carrying excess weight, but for those with Type 2 Diabetes, this isn't the case. Type 2 Diabetes and high levels of obesity cause high levels of insulin as the hormone battles to keep blood glucose in check. When insulin levels are raised, they block the signals Leptin is giving off to the area of the brain that controls weight and appetite. Despite having high levels of body fat, the signal to eat less or move more isn't getting through. Because it's not receiving the message from Leptin, the brain believes fat stores are low and so adjusts appetite and motivation to exercise in an effort to gain weight. This is a chemical disaster - essentially you now have somebody who is obese and needing to lose weight having the appetite and cravings of an individual who is underweight. It's crucial that we understand this chemical imbalance when working with individuals with Type 2 Diabetes.
It's not easy, but all is not lost. There are a few proven strategies that can help to improve and even reverse Type 2 Diabetes.
1. Exercise
When looking to lose weight and improve health exercise is a must, even more so for diabetics. It's well established that exercise can increase glucose uptake from the blood into muscle tissue to be used as fuel. In fact research has shown a single bout of moderate intensity exercise can increase glucose uptake by at least 40% for 48-72 hours after exercise. That means undertaking 3-4 sessions per week of moderate intensity exercise is hugely beneficial. Indeed, modest exercise (even without weight loss) reduces the morbidity and mortality associated with diabetes. It's difficult to imagine a more effective therapeutic strategy for reducing insulin resistance, improving blood glucose levels and improving overall health and wellbeing.
2. Sleep
If exercising seems like too much effort and you're looking for something a little more relaxing then obtaining a good night's sleep is paramount for both blood sugar management and regulation of appetite. Research groups have found far higher rates of Type 2 Diabetes among individuals that routinely sleep for less than six hours per night. In fact, studies have found sleeping four hours a night over six nights is enough to reduce the your uptake of glucose by 40%. Even partial sleep deprivation across one night increases insulin resistance, and increases blood sugar to pre-diabetic levels. We already know 62% of people with glucose levels in the pre-diabetes range are likely to have poor sleep.
Dr. Eve Van Cauter is a researcher looking at the link between sleep and appetite, and has found that loss of sleep increases circulating levels of endcannabinoids (yes, the same chemical you produce when you smoke marijuana) and a decrease in leptin, resulting in increased appetite and desire to snack. This chemical change increase is one of the reasons why our cravings for carbohydrate-rich foods and sweet/salty snacks increase by 30-40% and caloric intake by any additional 300 calories when sleep is reduced.
Chronic sleep deprivation is now recognised as one of the main factors in the development of Type 2 Diabetes throughout first-world countries. Quality sleep is a must!
3. Diet
Last but by no means least, diet is probably the strongest tool we have in our armoury in the fight against Diabetes. Low calorie diets can reverse and treat Type 2 Diabetes. The Diabetes Remission Clinical Trial (DiRECT) study and researchers at the Universities of Newcastle and Glasgow devised a diet plan consisting of 800 calories per day. They took around 300 patients that have had Diabetes for six years. After one year, 46% of the participants went into Diabetes remission and sustained their recovery without medication compared to only 4% of participants in the control group.
For some people, eating 800 calories a day isn unsustainable. If that's you, then you could perhaps consider a low carbohydrate diet, as we know diets that promote a lower intake of carbohydrate foods (<90g) help to improve blood glucose, insulin and weight loss compared with traditional eating.
Finally, if you're not ready to completely overhaul your diet then consider including vinegar shots before meals. There's a surprising amount of literature investigating their effect on blood sugar. A recent meta-analysis of controlled trials suggests that consuming one to two tablespoons of vinegar shortly before a carbohydrate-containing meal lowers the overall glucose response by an average of 60% and overall insulin response by an average of 130% compared to the same meal without vinegar. Notably, subgroup analysis suggested that both healthy and insulin resistant people observed a significant benefit, although the effect was more pronounced in people with insulin resistance.
When it comes to dietary advice and Type 2 Diabetes it's important to consider a diet that:
1. Reduces your total caloric intake to help promote weight loss
2. Reduces any refined, processed carbohydrate food sources such as biscuits, cakes, pastries, sugary cereals and fried foods such as chips, donuts etc.
3. Increases carbohydrates from whole grains such as beans, pulses, lentils, potatoes etc.
4. Increases intake of fibre through foods such as fruit, vegetables and smoothie recipes
5. Adds a shot of vinegar before or during any meal that contains a high level of carbohydrates - this is a great strategy to use when any meals you eat are out of your control
In summary, we need to be aware of the prevalence of diabetes as despite advances in health care and medical science the number of people suffering with diabetes is on the rise. Unfortunately, the world we live in today and the foods we eat are all set up to promote an unhealthy life which only increases the risk of developing diabetes. But arming yourself with the knowledge and tools to understand this condition is the first step in tackling it and taking care of your health.
When our members come to us with Diabetes or in a pre-diabetic state, we have a variety of tools that address their nutritional needs, but also work on habits and behaviour change to ensue the changes they need to make aren't unsustainable or overwhelming. If you need help developing a strategy to tackle your weight or diabetes, please do feel free to reach out. Email Chris here.
*The other 10% of cases are made up of Type 1 (when the pancreas fails to make insulin - 8%), with the remaining 2% made up of gestational diabetes and Type 3 Diabetes.