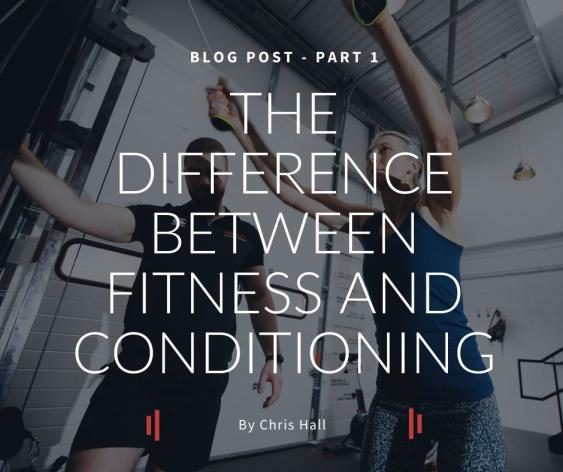 When fitness coaches talk about conditioning, they often refer to it as a measure of "how fatigued someone becomes over time" or "the ability to keep on going," and this becomes linked with how "fit" somebody is. Now this isn't strictly true: fitness and conditioning are two separate pieces of our overall performance.

Confusingly, it's both possible and very common to have a relatively high level of fitness but poor conditioning. So what's the difference, and how can you make sure you're tackling both elements of performance in your training?

Fitness is defined by gauging set markers that allow us to see a potential increase in performance, for example Vo2 max, resting heart rate, anaerobic threshold, or an increase in strength, speed or power etc. Generally speaking, the markers we track for fitness are both measurable and tangible, allowing us to see how much someone can lift or how fast they can run. Fitness markers are all qualities that contribute to the energy output side of performance.
Fitness is the measure of physical qualities that create the potential for performance:
01 / Vo2 Max
02 / Resting Heart Rate
03 / Heart Rate Variability
04 / Anaerobic Threshold
05 / Aerobic Threshold
06 / Improved Strength
07 / Power
Conditioning on the other hand is a lot less data driven. Conditioning is about our ability to use our fitness qualities to meet the demands of the environment. In effect, it's the physical and mental skills we must develop to manage our energy effectively to meet the demands of a sport.
Conditioning is the real driver behind our performance, as if wish to utilise all our potential (fitness markers) to drive performance we must also work on developing the skills needed for conditioning - as performance requires both a high-level of fitness and a high level of conditioning.


Conditioning is about our ability to use our fitness qualities to meet the demands of the environment:
01 / Energy Production and Expenditure
02 / Muscular Size and Fibre Type
03 / Nutrition
04 / Movement Capacity
05 / Skill and Technique
06 / Mental Performance
07 / Joint Mobility and Integrity
A good personal trainer or conditioning coach should be able to develop your fitness and your conditioning to prepare you and your body to perform within the sport or environment you've chosen. Most gym-based resistance and cardiovascular training will improve our fitness markers, but conditioning is a different ball game.

Look out for Part 2 when we look at how you can tackle this piece of the puzzle!
p.s. Over the last few months we've been working on a brand new online training programme that promises to get you fitter, stronger and overall, better conditioned.
If you feel ready to start moving forwards, then this could well prove beneficial for you - Welcome to our 30-Day Fitness & Conditioning Programme.