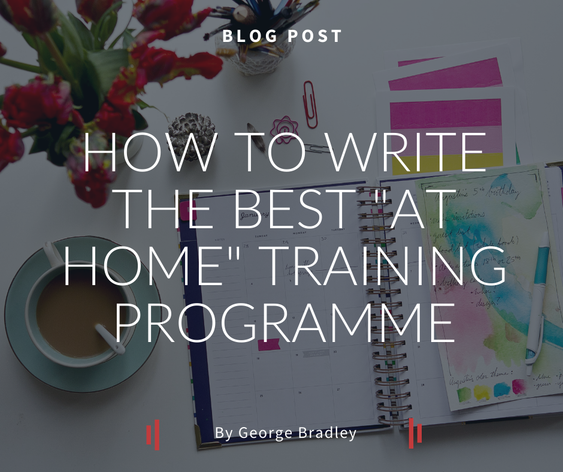 We're on the six-week countdown until gyms (hopefully) reopen. So how can you make the most of your time at home? George gives us his top tips for designing a top-quality home training programme.
The main difference between writing a programme for training at the gym and training at home is going to be where you place your focus first. When we train in the gym, we have access to a huge variety of equipment, allowing us to place your goal at the centre of programme design. This isn't the case when we're training at home, so rather than thinking about the goal first, we're going to assess what equipment you have first and then work back from there.
Equipment & Goal
Everyone who undertakes resistance training should be rotating through the different phases of training – strength, hypertrophy and metabolic/conditioning work. Given the lack of kit available to most of us at home (a dumbbell or two, a kettlebell and a resistance band if we're lucky!) it makes sense to spend this time focusing on a form of training that doesn't require huge progressions in load, namely metabolic/conditioning work. This will allow you to come back to the gym in a more conditioned state, allowing for faster adaptations, a win-win in my eyes.
So what does this look like? Well, it means:
Training multiple muscle groups per day (both upper and lower body in the same session)
A 'circuit' of 3-4 exercises
Higher reps and reduced rest periods – extra fun!
If you need some more info on different training phases, check out this blog post for lots of handy hints.
Reps
Load limitation also means we need to increase the number of reps we perform per exercise. There's not much benefit to be gained doing six reps with a weight we could use for 15-20. Regardless of the weights you have, we want to be aiming to end the set with about two reps left in the tank. This is sometimes called 'Reps in Reserve' (RIR).
A good rep range to aim for would be 12-15 reps per exercise, ending each set with 2RIR. We won't be looking to achieve muscular failure during this type of session.
Rest Periods
With increased reps comes reduced rest, counterintuitive I know, but that's the way it is. Resting for 90 seconds after each circuit of 3-4 exercises would be a great start.
Training Frequency
Given the type of training, we should be able to train each muscle group more often, increasing frequency of each group to around three times per week. The individual's training age will come into play here.
Piecing it together
So, when you're writing your next at home programme, remember to think about:
Training multiple muscle groups per day (upper & lower body)
A circuit of 3-4 exercises
12 to 15 reps per exercise
Rest 90s after each round
I would suggest starting with two different programmes and alternating between them, completing 3 workouts per week. This way you end up completing each one twice every other week.
Examples
Total A
A1 – Dumbbell Goblet Squat x 12 reps
A2 – Dumbbell Overhead Press x 12 reps
A3 – Dumbbell Reverse Lunge x 10 reps p.s
A4 – Bent Over Banded Row x 15 reps
*90s Rest
*Complete 4 rounds
Total B
A1 – Kettlebell Swing x 15 reps
A2 – Single Arm Dumbbell Row x 12 reps p.s
A3 – Dumbbell Split Squat x 10 reps p.s
A4 – Dumbbell Floor Press x 15 reps
* 90s Rest
*Complete 4 rounds
Progressing
My preferred methods for progressing metabolic programmes are:
Increasing the number of rounds
Week 1 – 4 rounds
Week 2 – 4 rounds
Week 3 – 5 rounds
Week 4 – 5/6 rounds
Reducing rest periods
Week 1 – 90s
Week 2 – 90s
Week 3 – 75s
Week 4 – 60s
If you need any help designing a programme, feel free to drop me an email here. Alternatively, you can join our online personal training service, which will last as long as lockdown does.