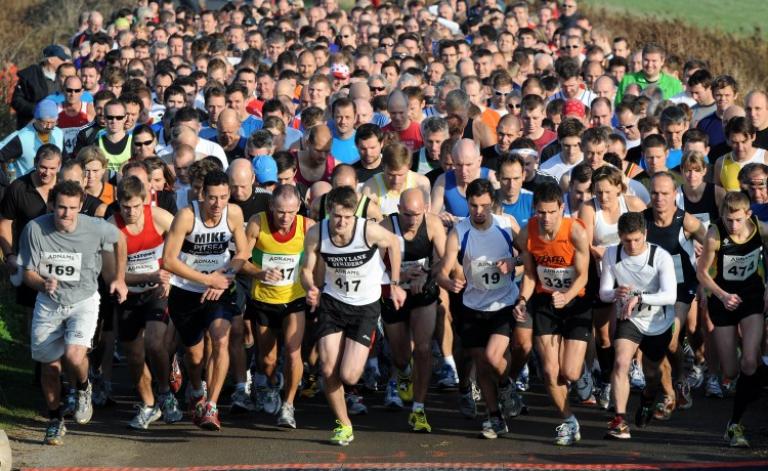 In preparation for this year's Town and Gown 10k race I've put together an 8 week training plan that's designed to get men completing the race in under 50 minutes, and most women within the hour. The plan is designed for someone with beginner's running experience and can be done without needing to sign up to your local gym.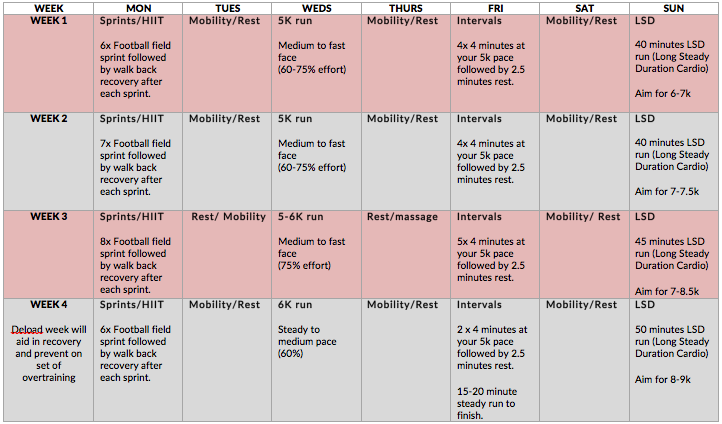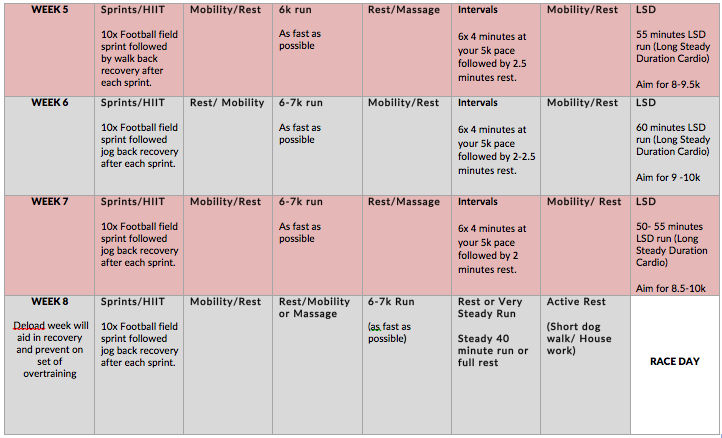 Understanding The Programme
Mobility - Use these sessions to do extra work on your flexibility/mobility. For example, static stretches or foam rolling. I would focus on the muscles used most during running e.g Hip flexors, quadriceps, calves, hamstrings and glutes. It may also be helpful to foam roll/stretch or massage the front of your shins to prevent the on-set of shin splints or to reduce the pain if you are unfortunate enough to suffer from them. Buying a good pair of running shoes tailored to your foot and gait would also be extremely useful and further prevent the risk of injury.
Deload: Weeks 4 & 8 - You may realise you are doing less during these weeks. This time will aid in your recovery and can be seen as 'active rest'. You will still gain a lot from these weeks fitness wise, but try not to overdo it and add more in. Sometimes less is more and when it comes to 10k-training recovery is key!
Week 8 will be your taper week to allow for optimal recovery and get your body hungry for your 10k race.
Intervals - Intervals teach your body to run fast. This is where you get your speed in. Make sure your hard effort is faster than talking pace but sustainable. On weeks 6 and 7 the recovery gets shorter. This is to challenge your aerobic capacity more in the lead up to the race. Make sure you walk or if possible jog the recovery. This session should ideally be competed on a field so you can stay in the same area. This may also allow you to calculate the distance covered in each sprint bout/set.
Sprints/HITT- HIIT is a great way at working two different energy systems of the body. It'll help improve and increase your fitness levels and ability to recover. It's important that you put 100% of your effort into each and every set. Sprint the long length of a football pitch or similar distance, once complete walk back to your start position. Notice this changes in week 6 to a jog back recovery. You could also try this up a hill for approximately 70-100m.
Steady run- Steady runs are an incredibly important part of your active recovery. They help to get the blood flowing through your muscles, pushing out the waste products from the hard sessions. These should be a very steady talking pace. This is the time to really enjoy your running.
About Becky Hodgson
As a successful 800m runner for Oxfordshire Athletics I have a strong postion on evidence based training and application. Strength training is my passion, including passing my knoweldge of lifting on to help other women like myself to see both the physical and practical benefits that strength training has to offer.
You can find me on Facebook, or why not even give us a Tweet @Hall_Training