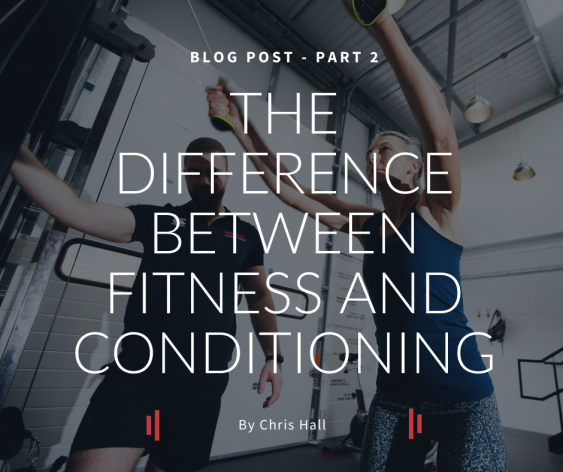 In our last blog post we looked at the difference between fitness and conditioning. While most types of exercise will improve our general fitness, we need to be a bit more specific when it comes to conditioning.

If we're looking at conditioning, there are two main factors we need to consider:

1. Energy output and control
2. Joint mobility and integrity

Let's look at what these terms mean.

1. Energy control
Sadly, we live in an era when the general philosophy around fitness is often to go harder, faster, further - if you're crawling out of the gym then you haven't worked hard enough. Although this may earn you a load of kudos from your trainer or other members of your gym it's unlikely to translate into medals won after crossing the finish line.

While the idea of being able to go 100% from start to finish sounds heroic, practicality it's just not possible for the human body to maintain this level of power for an extended period. While there will be times where you'll have likely pushed yourself to maximum effort continually, operating at this maximum capacity will ultimately lead the body into a state of stress, poor recovery and injury - ironically, decreasing your ability to perform.

Instead, it's important to know your body's limits, when to push on the gas and go 100% and when to back off. You need to be able to recognise what your limits are and to have a strategy around recognising when you're about to exceed them, as this is the only way you'll be able to manage your energy effectively, giving you the ability to maintain a high level of power output throughout your session.

An effective tool in teaching you energy control is something known as 'dynamic energy control.' This tool helps you to become aware of your own energy output, and to consciously control it to avoid fatigue and maximise performance.


There are serval lessons in dynamic energy control, with the cardiac output method being the first:
When you're able to recognise what your limits are with your own heart rate, and how different levels of exertion and rest cause it to increase and decrease, then you can move on to more complex methods in energy control, such as tempo intervals and alactic-aerobic intervals. These two methods will teach you how to control energy at higher intensities, as well as improving your ability to recover quickly between bouts of work using periods of rest.

Dynamic energy control will help you to recognise the signs of fatigue, and to develop an awareness of what different levels of exertion look and feel like, so you can learn to manage and manipulate it.
2. Joint mobility and integrity
Runners certainly have a good level of fitness, with markers including a low resting heart rate, high Vo2 max and a high anaerobic threshold, and they often know how to manage their energy output through dynamic energy control – that's one piece of the conditioning puzzle ticked off.

If you've recently taken up running then it's more than likely you've experienced pain or even worse an injury in the ankles, knees or hips. If you talk to any runner, they will almost certainly have suffered from medial tibia stress syndrome or "shin splints" - a sharp shooting pain up the inside of the shinbone. Essentially, this is a sign of doing too much, too soon and is a classic indictor of poor conditioning.

A lot of runners – running is just one example here – don't think about the mechanics behind running, and the amount of force the joints are exposed to as the feet strike the ground. We exert around 2.5 - 3.2 times our bodyweight through each foot when running at moderate speeds [1], with each foot striking the floor at an average of 80-100 times a minute. As an example, if a 60kg person runs for 30 mins, the force the ankle joint is exposed to is equivalent to a 152-192 kilogram baseball bat continually being bashed on the sole of each foot 25,000 times – it's no wonder there are lots of injuries!

A big part of conditioning is preparing the body for the environment you're training or competing in. Conditioning methods such as aerobic plyometrics and explosive repeats are great at developing the tissues of the lower body to handle incoming stress by becoming bigger, stronger, and more durable. This develops our joints and tissues around to better handle the stress imposed by the sport or environment.

The same can be said for golfers with the amount of force their elbow joints are expose to or combat fighters and their wrists. Different sports place a different level of stress upon the body and if you're looking to reach your peak performance then you need to make sure your body is ready to meet the stress your particular sport demands.

So, as a quick recap - are fitness and conditioning the same thing? No…

• Fitness (energy systems, strength, power) = energy production, the potential for performance.
• Conditioning = qualities of fitness + the skill sets that facilitate energy expenditure. Preparing the body for the demands/environment of the sport. A well-conditioned athlete is able to execute their skills to the best of their ability throughout the competition.

The key to unlocking your true performance is marrying these two, as only then do these two pieces of the performance puzzle come together.

If you're looking to improve your fitness and conditinng levels then why no sign up to our 30-day Fitness & Conditining Programme - a thirty day programme that develops your conditioning and teaches you the necessary skills to unlock your full potential when it comes to performance.
sources:
Burdett RG. Forces predicted at the ankle during running. Med Sci Sports Exerc. 1982;14(4):308‐316. doi:10.1249/00005768-198204000-00010